Yep. I've fallen madly head-over-heels in love. And my dear, sweet, (nearly) perfect husband just can't seem to understand and accept it. And he, so far, refuses to enable my acquisition of the object of my deep affection.
It isn't a sudden thing. I've been enamored for a few years. But yesterday, for the first time, I actually met my dearest in person. And I have to say, it is
definitely
true and everlasting love. I wish I had a picture of the wonderful fiber that has stolen my heart. But sadly, I don't. The shop was near closing and I had four rather impatient people waiting for me in the car outside. I thought the lady who ran the shop might object to me keeping her after hours just because I was taking selfies with her high dollar yarns.
Yes. I'm talking about yarn. What
else
would I be talking about? (Fabric, maybe, I guess. But I haven't been to a quilt shop in
ages
. And I seem to be on a knitting jag right now, for some reason...)
This is the closest picture I can find anywhere online. It doesn't begin to show how gorgeous yesterday's yarn was, but it is similar. (This picture came from
here
if you want to check it out.)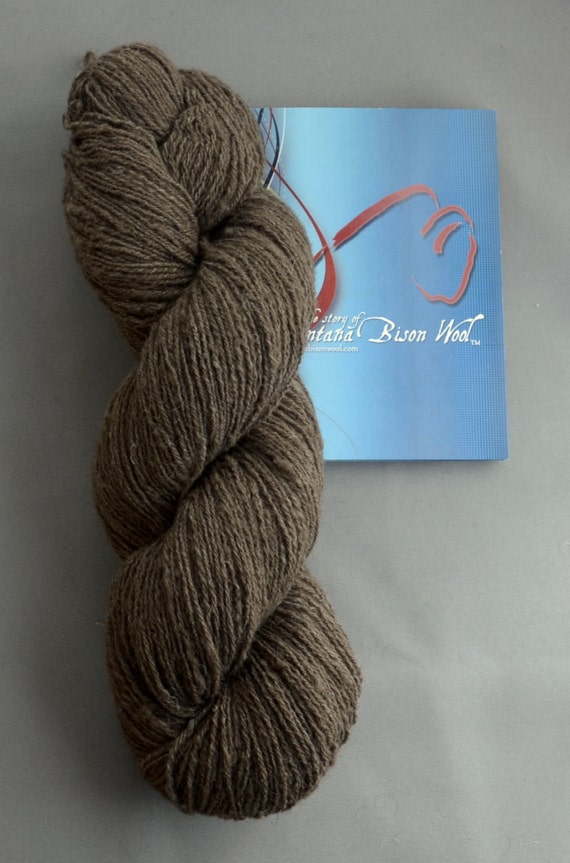 The lovely 100% bison laceweight that I fell for is super soft. Even softer than I had expected from reading about it online. And it knitted up into a beautiful, soft, drape-y scarf (that was lying right next to the skeins that I covet so)...
I'm working on convincing my husband that he really wants to buy me this yarn. (So far, it doesn't seem to be getting me anywhere.) But, if anyone would like to buy me an awesome Christmas present, this would be it. And she says she gladly ships. So, just let me know, and I'll give you all the details you need... ;) Seriously. I have to be reunited with my darlings as soon as possible.
I know, I know. Nobody in my family is going to take me seriously here. Especially after they find out the price. (But they should! This is the perfect present!) My husband's replies to my ongoing campaign always range somewhere from "It costs HOW much??!!!?!" to "What are you going to make with it?" (That's an impossible question to answer. Why make me lie to you? We both know I'm not going to do anything with it at first other than look at it, and hold it, and rub it against my face, and just generally carry it around like some sort of yarn pet. It'll be months before I'm ready to actually knit with it... I gave him a short list and told him it would depend on whether he bought it all for me or not. I personally see nothing excessive about three tiny little skeins...) I have a sinking feeling that he still just does not understand why I need these yarns. And I'm very afraid that he isn't going to buy any of them... :'(
To console myself, I grabbed up a couple of small skeins and a book that will supposedly teach me to spin. (Which has been on my to-do list for years. Someday, I'll actually find the time. Probably right after I convince my poor husband to get me a spinning wheel and a sheep or two...) I haven't gotten pictures snapped of them yet, but hopefully, I will later today. I tried to be good. And I was pretty rushed, so I didn't have time to do any major damage. My husband would say that's a good thing. I just call it unfortunate. ;)
I also think that I'm about one, maybe one and a half, hours away from finishing the socks for Little Miss. With any luck, I can get that done before bed tonight. Which means that I should have pictures of those soon, too. Maybe this blog will actually see a few finished projects before long. That would be a good thing...